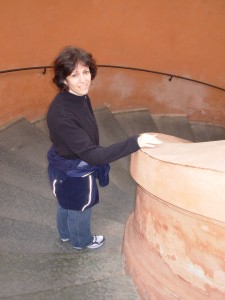 Dear Dr. Sarno,
I was scheduled to go under the knife when I heard about you and TMS. This was over twenty years ago. At the time I had a two year old, 25 pound, very active baby in diapers, and when the surgeon told me I'd never again be able to lift over 15 pounds even after surgery I knew his cure would not restore my life to normalcy. A friend of my mother's, who couldn't have been more traditional with medicine, told me about you. After hearing many explanations for my back pain from GPs, chiropractors, pain management therapists, and back surgeons, none of which made sense, TMS was the first thing that sounded to me like the diagnosis fit the symptoms! I read your books, and I believed! But my back pain wasn't going away and I knew I needed to see you. I had one hurdle to getting an appointment, though – I didn't live in the NYC area. I spoke with you, and I'll admit it, I probably begged, and I convinced you that I'd have the support I need in NYC (my wonderful aunt and uncle who lived in Queens) to come to NY for the 8 days necessary for an appointment and the lectures. (At the time you were doing a two-lecture series.) I recorded the lectures and listened to them over and over – they replaced the Raffi kids songs in the car for weeks! You gave me back my life, pain-free – thank you for that. Since then, when life gets stressful – work, kids going off to college, etc., if my back or my neck or my foot starts hurting, my husband says, "Pull out your Sarno tapes!", and I realize he is right, and that's what I do.
One other short anecdote – my brother was suffering from back pain at around the same time. He was living on the other side of the world, and I called him after seeing you and spoke to him for over an hour, and told him about TMS and the "think psychological" cure. Wouldn't you know it, it clicked for him even faster than it did for me, and he was better in just a few days!
Thanks again, and I only wish there were more like you carrying on your legacy!
Sincerely,
Irene from Illinois